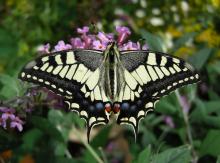 Meeting Place:
Meet about 3/10 mile north of the entrance to Sabino Canyon on Sabino Canyon Road, parking along the road near the entrance to the new overflow parking lot. There is legal parking there, pay attention to the parking signs.
We will walk in on a wonderful trail near the Southern AZ Rescue Association.  The Sabino Canyon main parking area gets very congested and it is difficult to find parking at that time of the morning. This meeting place is much easier for parking, plus the parking pass is not required, for those who don't have one. We will enjoy the fragrance of desert mistletoe blooms along the way while searching for butterflies nectaring at this wildflower and others. We will look for early Spring flyers such as Southwestern and Desert Orangetips, Spring White, Desert Marble, and many more.
Type of terrain: Most of our walk will be on paved road but we may choose to walk on gravel trails, depending on the abilities of participants.