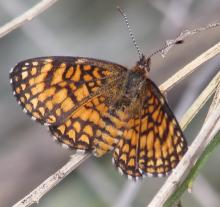 Meeting Place:
Pima Canyon located at 1610 E. Magee Rd. off Oracle Rd., north of Ina.
Special Notes:
Please RSVP to: Cindy Bethard by e-mail at: cindynik@hotmail.com. Try to carpool as much as possible, as trailhead parking is limited.
This is a very beautiful trail in the northwest Tucson area where many wonderful vistas can be seen as we hike this interesting trail. We hope to see multiple spring species of butterflies including Emperors, Oranges, Blues, Checkerspots, Desert Marble and Sara Orangetips.
Type of terrain: Trail has some rough areas; trekking poles may be helpful.
Trip Butterfly Reports:
Butterflies seen:
Pipevine Swallowtail              Battus philenor
Two-tailed Swallowtail           Papilio multicaudata
Sara Orangetip                        Anthocharis sara
Southern Dogface                    Colias cesonia
Cloudless Sulphur                   Phoebis sennae
Gray Hairstreak                       Strymon melinus
'Echo' Spring Azure               Celastrina ladon 
American Snout                      Libytheana carinenta
Elada Checkerspot                  Texola elada
Texan Crescent                       Phyciodes texana
Empress Leilia                        Asterocampa leilia
Arizona Powdered-Skipper     Systasea zampa
Funereal Duskywing               Erynnis funeralis
White Checkered-Skipper       Pyrgus albesce
We also saw a few birds, including lesser goldfinch, phainopepla, cardinal, and say's phoebe.