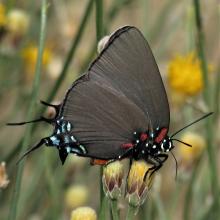 Meeting Place:
Arizona-Sonora Desert Museum entrance plaza
Special Notes:
Let's start the new year off looking for butterflies among the natural history delights of the Desert Museum! We'll look for butterflies in the mistletoe, fairy dusters, and any other blooming plants, as well as enjoying Raptor Free Flight in the morning. Bring lunch or buy lunch at the restaurant(s). We'll finish by 2pm.
Desert Museum entrance fees or membership required for entrance onto the grounds.
Keep an eye on the weather and CHECK THE WEBSITE FOR POSSIBLE WEATHER-RELATED CANCELLATION OF THIS FIELD TRIP.
Trip Butterfly Reports:
On an unseasonably warm day, we found 16 species nectering on the Museum grounds.
Pipevine Swallowtail  Battus philenor
Southern Dogface  Colias cesonia
Mexican Yellow  Eurema mexicana
Sleepy Orange  Abaeis nicippe
Dainty Sulphur   Nathalis iole
Great Purple Hairstreak  Atlides halesus
Leda Ministreak  Ministrymon leda
Marine Blue  Leptotes marina
Ceraunus Blue  Hemiargus ceraunus
Reakirt's Blue  Echinargus isola
American Snout  Libytheana carinenta
Queen  Danaus gilippus
Gulf Fritillary  Agraulis vanillae
Texan Crescent  Anthanassa texana
Painted Lady  Vanessa cardui
Funereal Duskywing  Erynnis funeralis