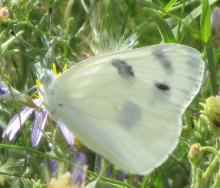 Meeting Place:
Meet at 10:00 a.m. at McDonald's/Safeway parking lot at Tanque Verde Road and Catalina Highway.
Special Notes:
Due to predicted cool weather, this trip was rescheduled from Jan 28th to Jan 31st. A National Parks and Federal Recreational Lands Pass (Annual, Senior, Access, Military, Volunteer, Golden Age or Golden Access) or a fee is required for the parking lot in Molino Basin.
We'll walk the paved campground road, approximately 1.5 mi. round trip.  Weather permitting we'll search for early season flyers such as Sara Orangetips and Brown Elfins.
Type of terrain: Most of the walking will be along the paved road. Those who are able may choose to walk along the hillsides adjacent to the road, where there are no trails but only rocky grassy terrain.
Trip Butterfly Reports:
On our hunt for early Spring butterflies, not many butterflies were seen.  We saw about six Pipevine Swallowtails (Battus philenor), one Sulphur sp., about 20 Spring Azures (Celastrina ladon echo), and one American Snout (Libytheana carinenta) at Molino Basin.  On the way down we saw a Southern Dogface (Colias cesonia).  Weather was cool and slightly windy, warming at mid-day.  Water is flowing and manzanita is budding but not blooming yet.