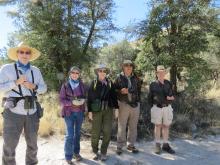 Meeting Place:
McDonald's/Safeway parking lot at the intersection of Tanque Verde Road and Catalina Highway. We will sign in here and double up on transportation, although parking should not be a major problem.
Special Notes:
A National Parks and Federal Recreational Lands Pass (Annual, Senior, Access, Military, Volunteer, Golden Age or Golden Access) or a fee is required for parking at Gordon Hirabayashi Campground.
We'll walk along the Arizona Trail and a sandy wash, approximately 1.5-2 mi. round trip. Manzanita and Rhus trilobata should both be blooming. We'll be looking for Brown Elfins, AZ Hairstreaks, Juniper Hairstreaks, Sara Orangetips, and possibly Spring Whites, along with other more common species.
Type of terrain: Much of the walking will be along the rocky, sandy Arizona Trail. We'll also spend time along the main wash, which will likely have quite a bit of water in it. Part of the time we'll bushwhack along rocky hillsides and/or minor washes with no trails.
Trip Butterfly Reports:
We had a fun day even though few butterflies were flying – probably a bit cold.  Manzanitas had started to bloom here, but the Skunk Bush (Rhus trilobata) will not start blooming for a week or two. Butterflies seen:
Pipevine Swallowtail Battus philenor
Sara (SW) Orangetip  Anthocharis sara (thoosa)
Echo' Spring Azure Celastrina ladon echo
Mourning Cloak Nymphalis antiopa
Red-spotted Purple Limenitis arthemis (not confirmed)
Photo by Cindy Bethard