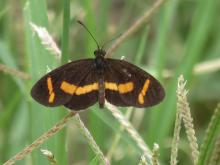 Date & Time:
October 17, 2015 - 9:00am
Meeting Place:
Brown Canyon Road, Buenos Aires NWR
On a special guided trip into Brown Canyon, we followed the creek and trail up to the arch in Brown Canyon. Brown Canyon is closed to the public unless accompanied by a Buenos Aires USFWS employee or Volunteer Guide. It was a lovely fall day in the canyon. Unusual butterflies seen are listed in bold type.
Trip Butterfly Reports:
Pipevine Swallowtail Battus philenor
Giant Swallowtail Papilio cresphontes
Southern Dogface Colias cesonia
Cloudless Sulphur Phoebis sennae
Mexican Yellow Eurema Mexicana
Tailed Orange Eurema proterpia
Mimosa Yellow Eurema nise
Sleepy Orange Eurema nicippe
Dainty Sulphur Nathalis iole
Western Pygmy-Blue Brephidium exile
Ceraunus Blue Hemiargus ceraunus
Fatal Metalmark Calephelis nemesis
Arizona Metalmark Calephelis arizonensis
American Snout Libytheana carinenta
Gulf Fritillary Agraulis vanillae
Bordered Patch Chlosyne lacinia
Elf Microtia elva
Tiny Checkerspot Dymasia dymas
Texan Crescent Phyciodes texana
American Lady Vanessa virginiensis
Painted Lady Vanessa cardui
Common Buckeye Junonia coenia
'Dark' Tropical Buckeye Junonia genoveva nigrosuffusa
Red-spotted Purple Limenitis arthemis astyanax
'Arizona' California Sister Adelpha bredowii
Empress Leilia Asterocampa leilia
Tawny Emperor Asterocampa clyton
Monarch Danaus plexippus
Queen Danaus gilippus
White-striped Longtail Chioides catillus
Dorantes Longtail Urbanus dorantes
Arizona Powdered-Skipper Systasea zampa
Funereal Duskywing Erynnis funeralis
White Checkered-Skipper Pyrgus albescens
Desert Checkered-Skipper Pyrgus philetas
Orange Skipperling Copaeodes aurantiaca
Violet-clouded SkipperLerodea earabus