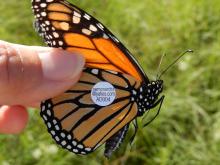 Date & Time:
October 11, 2015 - 8:00am
Meeting Place:
Arivaca Cienega, Buenos Aires Cienega, Arivaca, AZ
Special Notes:
This trip is by special invitation from Monarchwatch.org
SEABA members joined Gail Morris of Monarchwatch.org in forays off the official boardwalk to tag migrating monarch butterflies. Although only a few monarchs were found and tagged, a good time was had by all who showed to help with this important endeavor. in addition to the Monarchs, 20 other species of butterflies were seen.
Trip Butterfly Reports:
Pipevine Swallowtail Battus philenor
Orange Sulphur Colias eurytheme
Southern Dogface Zerene cesonia
Cloudless Sulphur Phoebis sennae
Mexican Yellow Eurema Mexicana
Dainty Sulphur Nathalis iole
Western Pygmy-Blue Brephidium exilis
Fatal Metalmark Calephelis nemesis
American Snout Libytheana carinenta
Gulf Fritillary Agraulis vanillae
Variegated Fritillary Euptoieta claudia
Mexican Fritillary Euptoieta hegesia
Texan Crescent Anthanassa texana
American Lady Vanessa virginiensis
Painted Lady Vanessa cardui
Monarch Danaus plexippus
Queen Danaus gilippus
Funereal Duskywing Erynnis funeralis
White Checkered-Skipper Pyrgus albescens
Fiery Skipper Hylephila phyleus
Pahaska Skipper Hesperia pahaska