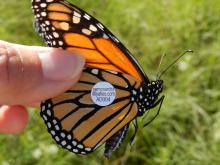 Date & Time:
October 20, 2015 - 7:00pm
Location:
Tucson Botanical Gardens, Education Class Room
Topic:
Status of Monarch Butterflies (Danaus plexippus) in Arizona
Gail coordinates the Southwest Monarch Study and is the Monarch Watch Conservation Specialist for Arizona and the West. She is also the Vice President of the Monarch Butterfly Fund. She has been involved with Monarchs for many years and shared with us some of her vast knowledge and most recent Danaus plexippus study findings.
Photo by Gail Morris