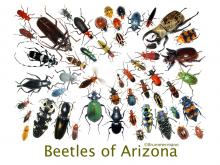 Date & Time:
November 28, 2017 - 7:00pm
Location:
Lutheran Church of the Foothills
There are almost 350,000 species of beetles on Earth. This is one-third of all of the animal species on planet. Beetles, as our butterflies,  go through complete metamorphosis from egg to larva (grub) to pupa and then finally adult. They have many interesting and diverse survival strategies. Please join biologist, artist and photographer Margarethe Brummermann as she showcases her favorite insects from the more than 1000 species of beetles she has photographed in Arizona.
Beetles of AZ image by Margarethe Brummermann