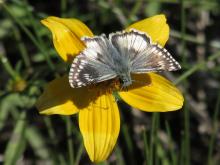 Location:
Tucson Botanical Gardens, Education Room
Topic:
eButterlfly, Members Potpourri, and Annual Election of Officers
Speaker:
Kathleen Purdic, Ph.D. and SEABA Members
Katy earned her doctoral degree in Evolution and Ecology from the University of Arizona. She is co-director of eButterfly, an online repository for sharing butterfly photos and checklists, and a resource to see which butterflies are flying across North America. She shared her butterfly adventures regarding eButterfly, conservation, and the role of citizen science in scientific discovery.
Many SEABA members are also accomplished photographers, so every year at the May meeting, SEABA invites its members to share a few of their own memorable butterfly images from past trips and outings.
SEABA also held its annual election of officers at the May meeting.