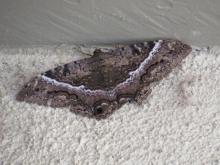 Date & Time:
January 19, 2016 - 7:00pm
Location:
Tucson Botanical Gardens, Education Class Room
Topic:
Moths of Southern Arizona
Moths are the under-appreciated, usually nocturnal cousins of butterflies. Yet moths greatly outnumber butterflies and many rival butterflies in their beautiful colors and patterns. This presentation will introduce you to these remarkable insects.
Jeff Babson is a life long naturalist with a particular interest in birds, butterflies, moths, beetles and dragonflies. He owns Sky Island Tours, an environmental education and eco-tour company. He has led birding tours for Pima County Department of Natural Resources, Parks, and Recreation, Arizona-Sonora Desert Museum, Tucson Botanical Gardens, and several birding festivals in southern Arizona (Wings over Willcox, Southwest Wings, Tucson Birding and Nature Festival). He has also taught classes and led field trips for butterflies, moths, dragonflies, and beetles. He lives in Vail with his wife and two children.
Please come and enjoy "Moths of Southern Arizona" presented by Jeff Babson