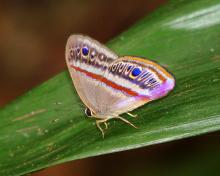 Date & Time:
February 16, 2016 - 7:00pm
Location:
Tucson Botanical Gardens, Education Class Room
Topic:
Peru's River of Butterflies; Tambopata & Manu Reserves
This presentation was an opportunity to explore the Amazon rainforests of Peru with Hank and Priscilla Brodkin, as they searched for endemic butterflies, birds, and even a jaguar. Priscilla lives in Carr Canyon, AZ, surrounded by the natural biodiversity of the Huachuca Mountains. Avid birders for most of their lives, they became butterfly enthusiasts in 1992. Their birding trips to Latin America turned into butterfly trips ranging from the Andes to the Amazon basin where they photographed thousands of butterflies, birds, and other interesting creatures. In 2001, they co-authored "Butterflies of Arizona, a Photographic Guide" with Bob Stewart. Hank also co-authored "Finding Butterflies in Arizona" with Rich Bailowitz, published in 2009.
Photo by Priscilla and Hank Brodkin